What people say about their CoLivi:
Une super expérience à Laxenburgerstrasse, l'appartement est parfaitement connecté aux transports en commun. Appartement chaleureux récemment refait à neuf et entièrement équipé avec en prime une grande TV et une baignoire. Mais le meilleur reste l'expérience de vivre 5 mois avec des étudiants de différents horizons avec qui je resterai certainement amis à vie !
I needed a room in Vienna for a month and I found in ColiVi a very good option. The contract was clear and included all expenses. The communication with the staff was smooth. Overall, a good service for short-term renting.
Viktoriia Savchenko
2022-08-29
Everything worked well with this company. We could negotiate renting a room in a very short period and I liked that. It was an easy move-in and move-out process. Especially I can recommend it to people searching for a few month accommodation, as it's usually not so easy to find one in Vienna. Contracts for rent are very detailed and clear. From cons: you can't really get to know your flatmates in advance, so it's kind of luck, but as far as I understood that's the concept of the company. Also, previous renter cleans a room for you before moving in and it's not additionally controlled by CoLivi, so as well depends on luck. We had to clean everything all over again. Otherwise, can recommend it.
CoLivi Real Estate GmbHPremetto che questa è stata la mia prima esperienza in un appartamento in affitto con coinquilini, e in particolare all'estero.Ho soggiornato 5 mesi nell'appartamento CoLivi in Maygasse 10, a Graz. Ad appena 5 minuti a piedi dalla principale stazione dei tram della città, si trova in una posizione perfetta, estremamente comoda! L'appartamento è, in generale, ben tenuto e ben organizzato, e appare come mostrato nei video e nelle foto pubblicate dall'azienda stessa.L'appartamento è all'ultimo di tre piani e non è presente un ascensore. Essendo direttamente sotto al tetto, le finestre sono alte rispetto al pavimento, e non sempre facili da raggiungere. Di conseguenza, la casa si scalda rapidamente d'estate, e non è facile ventilare le stanze per rinfrescarle. D'altra parte, il riscaldamento funziona perfettamente e, insieme agli altri servizi (acqua, elettricità, connessione a internet), è incluso nel prezzo dell'affitto per stanza.La cucina è attrezzata con l'indispensabile (pentole, padelle, terrine, scolapasta, taglieri - non c'è una bilancia). Pur essendoci abbondanti posate e stoviglie a disposizione per ben più di quattro persone (numero per il quale è destinato l'appartamento), manca uno spazio dedicato a eventuali ospiti.La pulizia è affidata agli inquilini, perciò dipende molto da chi occupa l'appartamento o l'ha occupato in precedenza. Nel mio caso, non ci sono stati problemi di rilievo. Se richiesto dagli inquilini, i proprietari possono comunque contattare un servizio di pulizie, deducendone però il costo dal deposito/caparra di ciascuno.Quello che è per me il principale punto di debolezza non è dell'appartamento, ma dell'agenzia: Per quanto ci siano metodi facili e immediati per contattare i proprietari, quali e-mail o telefono, ho sempre avuto l'impressione che fossero "distanti" e incapaci di risolvere concretamente eventuali problemi.Per esempio, a un certo punto io e i miei coinquilini abbiamo avuto un problema con il wi-fi, non risolvibile con un semplice "riavvia il router". Informati i proprietari, elencando anche i nostri tentativi per risolvere il problema, ci hanno proposto alcune soluzioni (tra cui "riavviate il router"...) e infine di contattare il fornitore del servizio. Personalmente, ritengo fosse loro compito contattare il fornitore, in quanto proprietari dell'appartamento e intestatari del contratto del servizio internet. Inoltre, non conoscendo abbastanza bene la lingua locale (tedesco), ci siamo dovuti rivolgere a una terza persona che facesse da intermediario. Alla fine abbiamo risolto il problema, ma abbiamo avuto la sensazione di essere stati "lasciati a noi stessi".Ritengo che mostrare un maggior interessamento per quanto riguarda la situazione dell'appartamento sarebbe un gran punto a favore dei proprietari: controllare (personalmente) lo stato di questo e degli altri locali di tanto in tanto, intervenire per tempo per evitare danni o ripararli quando già presenti, promuovere di tasca propria anche solo una volta all'anno la completa pulizia degli appartamenti... ... Andrebbe a beneficio loro, che avrebbero maggior controllo sulla qualità dei locali messi in affitto, e a beneficio degli inquilini, che avrebbero un punto di riferimento più affidabile.Ho anche pensato che questo diverso interessamento fosse dovuto alla distanza della sede dell'agenzia (con base a Vienna) dal nostro appartamento (a Graz, a circa due ore e mezza di treno), e in questo caso mi interesserebbe avere conferma da ospiti di altre case gestite dalla stessa agenzia.In conclusione, la casa è in buone condizioni e in un'ottima posizione per studenti o lavoratori disposti a vivere con coinquilini, ma dà l'impressione di essere lasciata alla "mercé" degli inquilini.
Für mein Auslandspraktikum habe ich in Wien ein WG-Zimmer für 6 Monate gesucht. Über CoLivi war es sehr unkompliziert auch relativ früh eine Wohnung zu finden, die möbeliert ist und fast alles da ist was man braucht. Ein paar Küchensachen wie bspw. Schneidebretter haben mir gefehlt. Ansonsten kann ich CoLivi nur weiterempfehlen 🙂
Service was awesome.
Margaux Flatrès
2022-08-17
Very easy to book and rent a room in Vienna thanks to Colivi team. The flat was very similar to the description and pictures. Colivi was reactive each time we had trouble in the flat.
Michelle DiBlasio
2022-08-17
I lived in a Colivi flat in Vienna for 9 months and I had an overall good experience with them. It is a very convenient and well-organized way to find a place to live. This is a great living option for young adults, especially for those who are international and cannot bring much stuff over to another city. The landlords were great in communication before signing the lease, during, and after my stay. If there was an issue, they would always be quick to respond and help solve the problem. The room was fully furnished and the kitchen came with many utilities. The flat was located in a great location of the city where many stores and public transportation were easily accessible. It was cool to meet my flatmates from different countries and get to know them. I recommend them 🙂
Colivi is a safe option for accommodation in vienna, i stayed in one of their apartments for four months, everything was excellent from the location of the apartment to the new furniture, simply everything. In my next trip to vienna they will be my first option.
Cheap Apartments for Rent
If you are like many people living in Vienna or the surrounding area, you are likely wondering how to find cheap apartments for rent. Many students and young people have trouble finding affordable apartments in their area and don't know where to turn.
The good news is you can locate budget-friendly apartments if you know where to look. This guide points you in the right direction and shows you how to find apartments that won't break your bank.
How to Find Cheap Apartments for Rent
Check with friends and family when you want to know how to find cheap apartments for rent. You might have friends or relatives who know of competitive apartments near you, amenities included. If your loved ones don't know of any apartments within your budget, CoLivi is another option worth considering. This website is dedicated to connecting students and young people with affordable apartments in the area.
You create an account and begin searching for apartments that meet your needs, and you will have no trouble finding a new place to call home. CoLivi has plenty of properties of different styles and m² sizes so that you can find one that stands out to you more than the rest. Those who use CoLivi are thrilled with the apartments and prices they get.
How to Find Apartments for Rent
Looking for an apartment on a budget can seem like a daunting task. Although it can seem stressful, it does not have to be that way when you know what steps to take. Many people don't even consider how they will furnish their apartment when they move into it. They quickly discover that getting tables, chairs, beds and everything else they need gets expensive.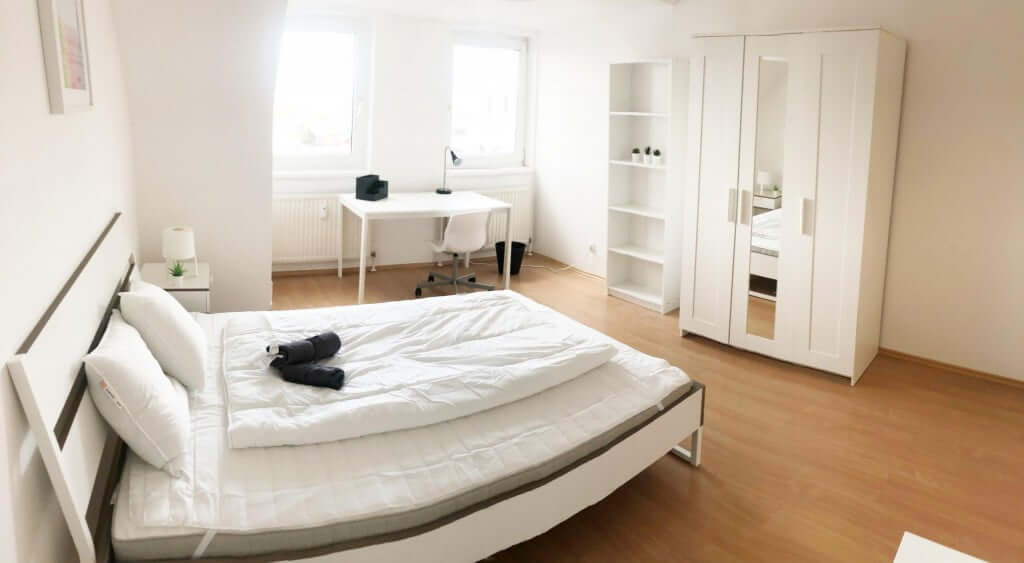 Overcome that problem by learning how to find furnished apartments for rent in Vienna. A furnished apartment including bathroom, bedroom / bedrooms or kitchen comes with everything you need to feel at home, and you won't have to spend tons of money on new furniture. W-Lan is also included.
CoLivi is another powerful resource for anyone wondering how to find furnished apartments for rent. Think of all the money you save when you don't have to buy desks, televisions or expensive appliances. The benefits of renting a furnished apartment add up faster than you think.
How to Find Cheap Apartments Near Me
How do I find low-cost apartments near me? If you live in or near Vienna, CoLivi is a great resource you can't afford to overlook. It highlights some of the top and most affordable apartments Vienna has to offer. The best part, though, is that CoLivi is committed to helping students and young professionals find apartments with their peers.
In other words, you get a list of affordable apartments near people your age who likely share your interests and lifestyle choices. This makes it much easier to network your professional life and enhance your social life. Finding a good value property or accommodation has never been this easy. Different and flexible ways of rentals are naturally.
How Much Are Cheap Apartments in Vienna?
When looking for inexpensive apartments, remember that cheap could mean something different to each person. You must look at price lists to get an idea of how much you will pay, and this helps you plan your budget and decide if you can afford living in the city.
Depending on the time of year you rent your apartment, expect to pay between € 450 and € 550 per month or € 15/m² and maximum € 23/m². This price includes furniture and Wi-Fi access. You even get towels at this price, and all you have to bring are your clothes, books and supplies.
How Much Are Cheap Apartments in Graz?
Whether you already live in Graz or plan to move here soon, you want to know how much a apartment in Graz cost. Graz is an attractive area that hosts many tourists and students each year.
It's also one of the most well-known historical cities in Europe. You can expect to pay around € 800 to € 1,100 for decent apartments if you plan to live alone in Graz. As a student or young professional, use CoLivi to get the best possible rates in the area. You can then expect more reasonable rates starting at € 400 per month.
Final Thoughts
Finding affordable apartments does not have to be an uphill battle. You can search for apartments on your own, ask friends or use CoLivi. If you are a student or young professional, it's hard to beat the prices you will find on CoLivi. In addition to getting cheap rates, you also get furnished apartments and access to people with similar interests and lifestyles.
Put some thought into your path if you want to get the most from your choice. When you compare your options while keeping your needs at the front of your mind, you have no trouble locating apartments that work with your budget. Don't search a month or longer for your apartment or studio, take colivi.com. Flexible rental, houses in lovely districts – don't hesitate to get in touch for more information or any questions about our available apartment or studio with all our amenities and services.