Popular Literary Cafés in Vienna
The course divides minds when it comes to reading: On the one hand, you have to read something all the time for university. On the other hand, there is often nothing more relaxing than picking up a good book and escaping stressful everyday university life.
If you are one of the latter, we have the best tips for you where you can read your book in peace and quiet and enjoy a delicious coffee at the same time. Here is our list of the cosiest reading cafés in Vienna.
These reading cafés in Vienna invite you to relax and enjoy delicious coffee!
Welcome home to the Stadtkind!
Universitätsstrasse 11, 1010 Vienna
In Stadtkind, directly by the University of Vienna, an old coffee house has been turned into a modern café that is particularly popular with students. Architecturally puristic, with light birch wood, granite, black leather, Roland-Rainer armchairs and leather benches in front of large mirrors, Stadtkind encourages you to eat and linger.
You will be spoiled with a delicious breakfast, culinary delights which change weekly, cocktails as well as the finest beer and wine. A cosy living room on the 1st floor invites you to read, study and relax.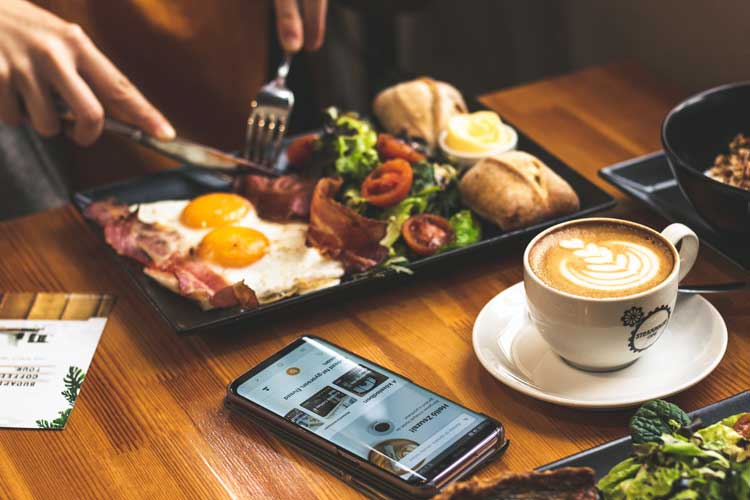 Speaking of the university of Vienna: We can help you find cheap apartments for rent or furnished appartments for rent in Vienna near the university. You have your private bedroom and access to a shared kitchen and living room. WiFi is also provided for free. You find also more information here: Flatshare Vienna
The phil has a lot going on.
Gumpendorfer Strasse 10-12, 1060 Vienna
The phil is a cosy retro café where you feel right at home. The casual interior invites you to linger in this reading café in Vienna. There is also good coffee and great food. You will be presented with the latest books, DVDs or records that you can enjoy on site or purchase.
In addition to the huge selection, the phil is open both in the morning (for breakfast) and in the evening (to meet up with friends).
Top coffee art in the J. Hornig coffee bar
Siebensterngasse 29, 1070 Vienna
Brewing methods that make every barista shine. Pastries to delight those with a sweet tooth. And of course coffee to make the palate & senses dance: The J. Hornig coffee bar, in the 7th District in Siebensterngasse is a real paradise for caffeine lovers.
Extraordinary history at Café Kafka
Capistrangasse 8, 1060 Vienna
This café is actually not comparable to the phil or the Coffee Fellows, because you don't buy your books straight from here. Café Kafka is however one of the most historic cafés in Vienna. It is charmingly rustic, stylish and really quaint.
All over the walls, you will find old posters that will immerse you in bygone times. At this place, you will get a feeling for what life is like as a Viennese student!
mumok: Library and cupcakes
Museumsplatz 1, 1070 Vienna
This area of the Museum Quarter in Vienna is simply awesome. In the summer, you can spend a great day here with your friends in comfort, but the mumok library also has a lot to offer!
You will find everything about the art of the 1960s and 1970s, including literature on current art discourse. When you have chosen your favourite reading, visit the mumok Café right away.
Aim high with the Café Oben
Urban-Loritz-Platz 2, 1070 Vienna
Café Oben is up the stairs. Namely on the roof of the main library in Vienna on the Gürtel. Here you can take a little break from the monotony of studies and enjoy your book. You can see a part of your Vienna and finally concentrate on the essentials again – on your beloved book pages. We particularly recommend the great breakfast menu.
Cosy breakfast and more in the Liebling
Zollergasse 6, 1070 Vienna
Whether you prefer to stick your nose into a book or let yourself be carried away by the colourful crowd: At Café Liebling you are in good hands at any time of the day or night if you are looking for a delicious breakfast, varied lunch or just a drink or two.
There is pure culture in Café Tachles!
Karmeliterplatz 1, 1020 Vienna
The Tachles culture café not only serves you hot coffee, but also, among other things, both savoury and sweet pierogi, which will quickly satisfy your hunger pangs after the lecture.
In addition, regular events are held in the Tachles, where cabaret evenings, readings and much more await the culture-hungry student.
If you have more questions about Coliving Vienna, we are looking forward to hear from you!