Five tips for Zero Waste in everyday life
Once again you're standing by the garbage for your building shaking your head. How can so many bins be so full all the time? Disposable products, unnecessary packaging material and, above all, spontaneous, thoughtless purchases are challenging for the environment. We'll tell you how you can easily integrate Zero Waste into your everyday student life!

Groundhog Day
It's a familiar event: If you're on your way to work or university in the morning, you can stop by your favorite bakery and grab a bite. However, these morsels are often packed in paper bags, which then go back into the nearest garbage can. You can easily get around this using a clean baking bag.
At the self-service bakery, you can simply show the opened bag when you check out, and a non-plastic lunch box is recommended if it is served by an employee.
Going out to eat & Zero Waste
If you would like to treat yourself to a restaurant visit after a long day, there are already some restaurants that specialize in Zero Waste. Unlike many other restaurants, they make sure that the dishes are "Zero Waste" when they are produced. It is precisely in the "waste products" such as apple peels or offal where there are many vitamins and nutrients to be found.
A quick online search reveals whether your selected restaurant values a waste–free process. And if you can't quite finish your meal, you can take it home with you in a stainless steel box and thus do without aluminum foil.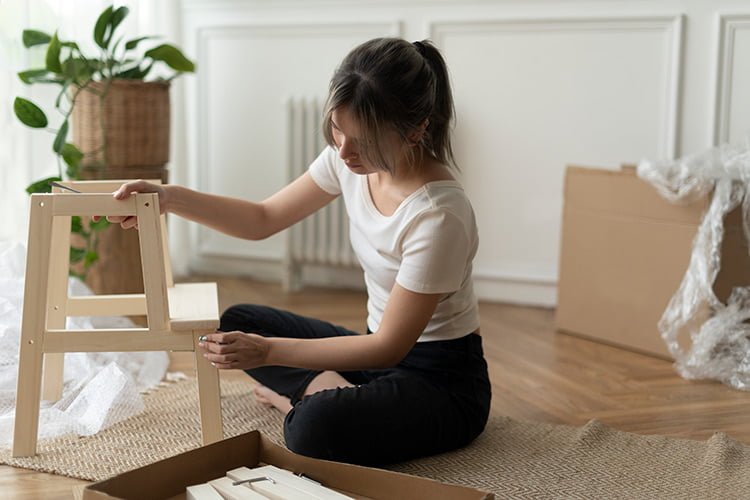 New furniture? Only solid materials, please
Unfortunately, cheap furniture is often made of pressed chipboard and can usually only be repaired with difficulty, if at all.
If you are planning to move or want to buy new furniture, make sure that it is made of solid wood or recyclable materials. That way, you don't have the embarrassment of having to throw them away.
CoLivi offers you high-quality furnished apartments for rent in Vienna and Graz at affordable prices and flexible durations. Become part of the whole and enjoy your dream apartment as well as the many advantages of our large international CoLivi community. Get your CoLivi now and share this unique experience on cheap apartments for rent with other like-minded people. In addition to furnished apartments, we also offer the option of Flatshare in Vienna and Graz or short term rentals.
CoLivi also offers Coliving in Vienna where you can find high-quality furnished apartments for rent at affordable prices and flexible durations. Take a look at our Vienna apartments for rent and find the perfect place for young workers and students.
You need an temporary place in Austria? We have the perfect offer for you! Our short term rentals in Vienna are a great choice for visitors and professionals who just want to stay for a while. You can just unpack your luggage and enjoy your new home!
Bottles here, bottles there
In principle, it is good to have a large supply of different glass bottle sizes. Oils, smoothies, juices, but also canned food can be preserved in this way. In order to be able to transport them well, a bottle bag is appropriate here so that nothing breaks.
Cleaning agents & detergents
Zero Waste is very easy, especially when it comes to cleaning products.
One tablespoon of vinegar essence diluted in 300ml of water results in an excellent vinegar cleaner. Washing soda and chestnuts as dishwasher detergent and olive oil soap for hand and face cleansing. But almond or olive oil are also great for creams and cooking.
We hope we were able to give you a few tips that can be easily integrated into your everyday student life and make it a bit more environmentally friendly and sustainable.