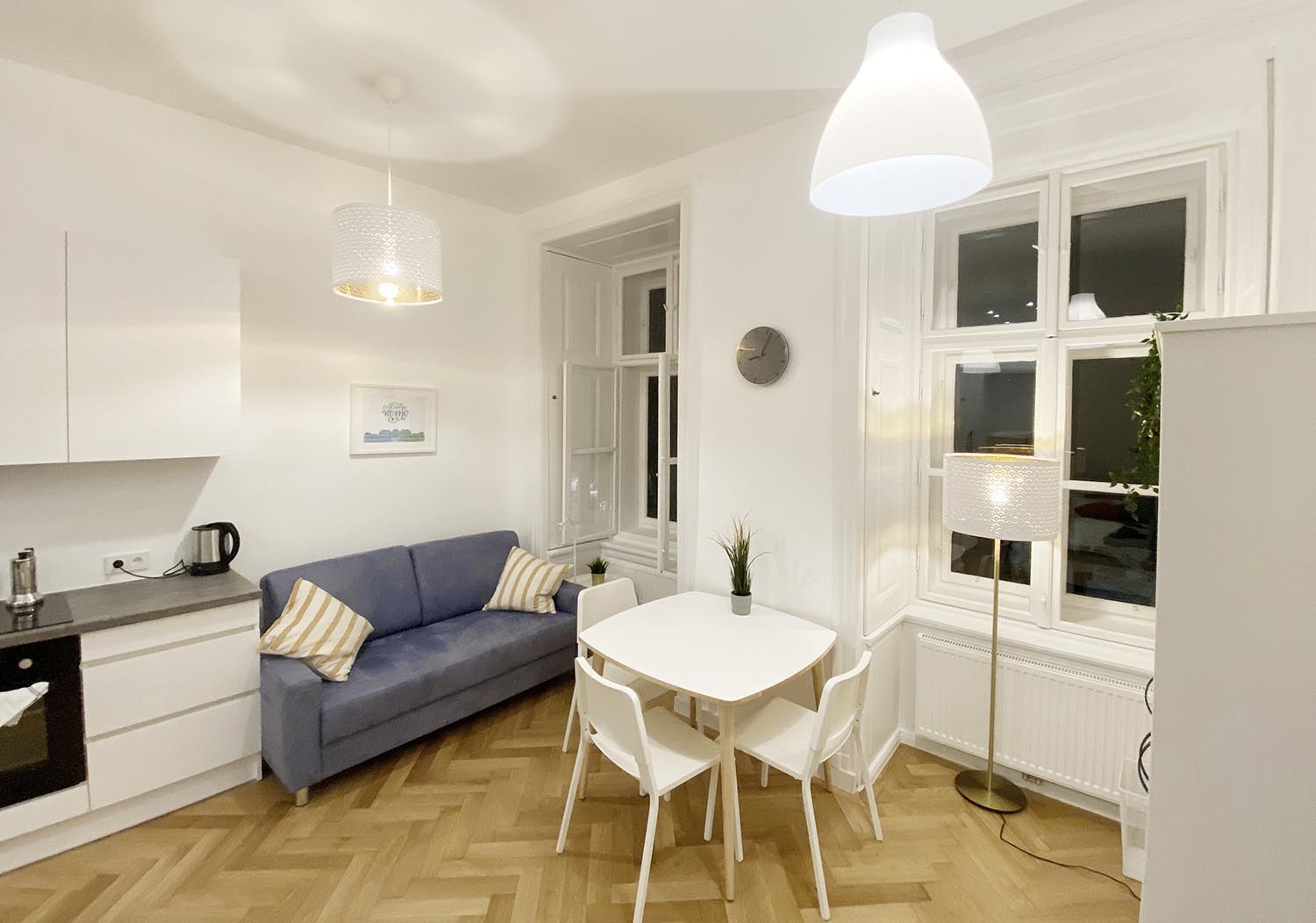 Short term rentals in Vienna
Short term rentals in Vienna are gaining in popularity all over the world. They're a perfect retreat for students, visitors, and professionals who want a temporary place to call home. Here is a brief overview of such rentals in Austria and what to expect if you want to rent an apartment while visiting Vienna.
What Are Short Term Rentals?
A short term rental is usually a furnished living space that doesn't have strict regulations. You can just unpack your luggage and enjoy a homely feel right from the second you step inside the premises. The type of accommodation usually includes vacation rentals, student hostels, flats, co-living spaces, and certain apartments.
The idea behind short term rental is to offer a place, which has all the necessities in one place. Unlike hotels, these short term rentals provide an informal atmosphere without the nagging feeling of being watched. Yes, there are rules to follow but if you live responsibly, furnished short term rentals provide a convenient, safe, and comfortable environment.
A typical short term rental can be booked in advance just like a hotel room. While there are usually no restrictions on the length of stay, some owners may require you to book at least a couple of nights and pay a security deposit. If someone wants to stay longer, it is also possible to renew the term after a month.
Students and young professionals sharing a flat in major cities are generally required to sign a contract for at least two to six months. As with most flatshare and co-living spaces in major cities, the tenant pays an upfront deposit. In addition, most flats have a fixed move-in and move-out date.
A flatshare in Vienna comes in many configurations. For example, you may share a room with another person or rent a separate room in an apartment. Usually, two to six people will share the space. In any case, most owners and apartment management companies like CoLivi, have some sort of mechanism in place to ensure that no one in their apartment has a criminal background.
What Are the Benefits of Short Term Rentals in Vienna?
Moving to a new location is a bit of a hassle because things remain uncertain until you're firmly settled in a place. Vienna is no exception. However, furnished co-living spaces can certainly help you relax and make new friends.
Take a look at some of these wonderful benefits of short term rentals in the City of Musicians:
Flexibility: Short-term rentals offer a convenient way to settle quickly because there are usually no long-term contracts and no credit checks.
Networking: If you're sharing an apartment with others, it's a great opportunity to make new friends and find networking opportunities.
Amenities: A furnished rental is equipped with room furniture, living room amenities, and kitchen utensils.
Outdoor Space: Most co-living spaces come with a common area that includes a game room, BBQ, and other facilities.
Rent: Compared to hostels and traditional apartments, a coliving space or student housing such as CoLivi costs less than half the typical monthly rent.
Expense: There is typically no need to pay administrative expenses. Extra expenses such as cleaning fees, maintenance charges, insurance, management fees, and utilities are included.
Savings: Moving to a furnished apartment can save a lot of upfront costs associated with furniture and room furnishing. In the short term, it translates into hundreds of dollars in savings.
While there are certainly lots of other benefits but you should get the gist. If this seems interesting, here're some tips to find top-quality yet cheap apartments for rent in the capital of Austria.
How to Find Short Term Rental Apartments in Vienna?
Browsing the Internet is probably the quickest and easiest way to find a short term rental in any city. Vienna has hundreds of options; therefore, use appropriate search keywords to get precise results. For instance, if you're looking for a coliving space, use the keyword "coliving vienna" in your search. It will pull up targeted and refined results according to your specific needs.
Let Colivi match you with an apartment that fits your unique needs.
You can check out Colivi.com – one of the largest providers of coliving spaces in the city. They offer cheap but modern furnished apartments for rent in Vienna. Their rooms save you time and money. It's not necessary to buy short-term items, if you decide to live in a furnished flatshare.
Colivi helps you to find Vienna apartments for rent with the best conditions. There are high quality rooms available in top locations in Vienna with good transport connections.
Local newspapers also come in handy. Weekend editions of local newspapers in Austria have relevant information on private apartments. Similarly, certain social media groups also advertise listings. If you're willing to pay someone, a real estate agent or a relocation service can assist in finding a suitable furnished apartment.
How much does short-term rental in Vienna cost?
Vienna comprises 23 districts, which spiral out from the city center in all directions. Districts 1 to 9 are expensive as they comprise the heart of the city's downtown. A typical one-bedroom apartment will cost anywhere between 800 Euros and 1300 Euros. The price of a furnished apartment is likely more.
Staying away from the city center in the residential neighborhoods, districts 13 to 19, will reduce the price by 25% or more. If you decide to stay in these areas, make sure to rent an apartment near public transport. Also, keep in mind that landlords in this area mostly prefer long-term contracts.
If you have a car, you can try your luck in districts 21 and 22, on the other side of the river.
A better option is property management companies like CoLivi, which offers short-term housing to students and professionals near downtown. CoLivi manages more than a hundred properties in the city center. A stay in a modern independent room will only cost between 400 Euros and 650 Euros, all utilities included. You will share the living space with two to five people living in the same apartment as you.
Overall, furnished co-living apartments are a great value. You keep your privacy, make new friends, get a furnished apartment, and pay a lot less. This is perhaps an ideal lifestyle to enjoy cosmopolitan cities anywhere in the world.
Request information about our apartments in Vienna today.
Contact us, if you have any questions! Our staff will be happy to help!