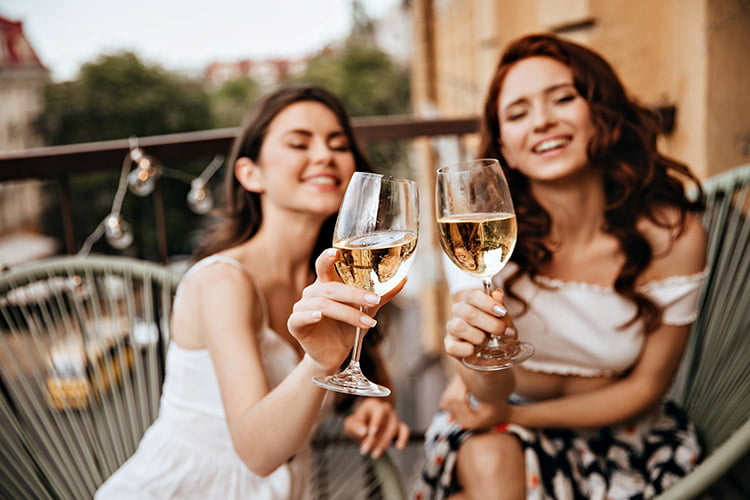 The best bars for fancy spritzers in Vienna
"Bring the wine spritzer!" You can only toast to the most frequently quoted statement by our former mayor, Michael Häupl. To make everyday life a little more colourful and enjoy the spring-like temperatures, we tell you where you can get particularly unusual spritzers in Vienna.
Wine spritzers are always a good idea, whether spring, summer, autumn or winter. And especially when the days are long, the temperatures are rising and the sun is finally laughing heartily again. Turn your taste buds back to good old White G'Spritzten and treat yourself to some refreshment. We'll tell you where you can get particularly unusual spritzer creations in Vienna.
Weinorgel
In addition to exclusive domestic and foreign wines, some of the most unusual spritzers in Vienna await you at Weinorgel. Apart from a normal spritzer and the Kaiserspritzer, there are also creations such as mint–lemon, pomegranate-cucumber, Lillet or violet.
You can sip all of them comfortably under the Gothic monastery vault. A funny side note: The in-house carousel organ, on which wood-carved figures moved to the beat of the organ music, was set up especially to live up to the name, and not just with wine. Weinorgel is open daily from 4 p.m.
Bäckerstraße 2, 1010 Vienna
Ganz Wien
Ganz Wien loves vanilla spritzers! Of course, the 7th District, as the city's hipster hotspot, awaits with some of Vienna's most outlandish splashes. In Ganz Wien on Zollergasse you will find a cosy place for a refreshing spritzers.
In addition to the vanilla spritzer, which is guaranteed to be the highlight of the cosy bar, there is also a Venetian spritzer, a rhubarb or a lavender spritzer – yummy! This paradise for lovers of spritzers, named after a song by Falco, awaits your visit.
Zollergasse 15, 1070 Vienna
Harry's Augustin
It is worth taking the gondola a little further to the outskirts of Vienna in search of an unusual spritzer. The rustic city tavern Harry's Augustin in Simmering not only has a lot of hearty tavern foods on offer, but also a surprisingly wide selection of wine spritzer combinations.
Here you can sit in the wonderfully green garden away from the tourist crowds and sip on peach-currant, hibiscus, green apple-lime, Wachau dirndl, raspberry-rosemary, grapefruit-lemon or chilli-cucumber spritzers. Mmmhhh…
Kaiser-Ebersdorfer-Straße 58, 1110
Looking for a place to stay?
With colivi you are guaranteed to find the right flat, and new friends.
Coliving in Vienna
offers you high-quality furnished apartments for rent at affordable prices and flexible durations. Become part of the whole and enjoy your dream apartment as well as the many advantages of our large international CoLivi community.
Get your CoLivi now and share this unique experience with other like-minded people. In addition to furnished apartments, we also offer the option of Flatshare in Vienna or short term rentals in Vienna.
You are in Vienna and need accommodation besides your studies? ➟ Vienna apartments for rent
Ramasuri
On Praterstraße, not far from Mochi and Ansari, you will find the Ramasuri, which can be recognized by its red and white awnings and the constantly changing, funny writing on the board directly in front of the restaurant.
The bar's motto: "Der Mensch is' guat, nur die Leut' san a Gsindel" by Johann Nepomuk Nestroy, whose statue is prominently placed directly in front of the Ramasuri. However, this statement is not due to unfriendly staff – the waiters here are very nice. It is rather because at Ramasuri you sit in Nestroy's shadow.
The lavender violet spritzer which has little violets floating in it tastes really delicious as it is not too sweet yet more exciting than a regular spritzer. Alternatively, you can also try the plum and blueberry spritzer. The Nestroys Ho-Gu with Prosecco, lime, mint and elderberry syrup and soda is also not exactly wine spritzer, but definitely unusual.
Praterstraße 19, 1020 Vienna
Tewa
The Tewa at the Naschmarkt (and also at the Karmelitermarkt) is not only one of our favourite places for oriental food, but also one of our favourites for one of the most unusual spritzers in Vienna.
With so many unusual types of wine spritzers, it's difficult for us to choose just one – and we prefer to just try our way through the menu. There is a cardamom, a ginger, a quince, a lillet and a blueberry spritzer here.
Not a bad choice! If you have experimented enough, there is of course also the very traditional white spritzer as well as Kaiser or Aperol spritzers. It's definitely worth stopping by and tasting a few special creations.
Naschmarkt 672, 1060 Vienna | Karmelitermarkt 25-29, 1020 Vienna
Enjoy your evening with one of the most unusual spritzers in Vienna!