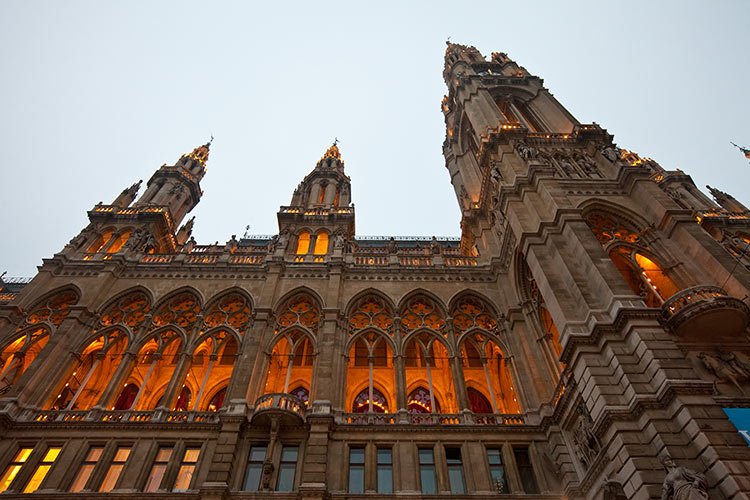 Wienliebe – Give your new city a chance
I recently got into conversation with an acquaintance of a friend of mine. Both of us, originally from another federal state, immediately found common ground: A new home – Vienna!
The most liveable of cities that we've come to know and love! However, we both agreed that coming from a rural backwater it had taken us a quite a long time to find our bearings in the big city.
In order to better understand my first time in Vienna, it's essential to describe the time prior to that. Before I moved to Vienna, I'd always lived in the country. Fields, meadows, forests, fresh air, food and products from the region, tradition, greeting each other and "everybody knows everybody else". Country life!
The extreme contrast of city and country, grey and green, strange and familiar, a lot and a little, loud and quiet, didn't exactly make my arrival in Vienna easy. In addition, I focused very much on my education, which is why I hardly had any time to really get to know the city. As the course was very demanding and caused me stress, I equated these negative feelings about the course with the city.
I knew: After graduation, I'd be gone! Goodbye Vienna!
But it turned out differently than I expected. Although I decided to leave Vienna to replenish my reserves of energy in my hometown, I gave Vienna a second chance afterwards.
This time I wanted not only to get to know Vienna, but also to enjoy the city's countless possibilities. I had a great place to live, took advantage of cultural attractions, pursued my hobbies and maintained my social contacts in the area – and Vienna became a new home.
I'd never have dreamed that I'd ever talk about "Wienliebe". But it happened! I love exploring the city on foot, finding hidden alleys and green spots, trying out nice cafes, spending summer evenings in the Museum Quarter, riding the old tram, strolling through markets, visiting exhibitions and theatres, experiencing multicultural attractions, having a variety of leisure activities and making new contacts.
What I learned was how important it is to really take the time to settle in. It's essential to find a place for your favourite activities and to make and maintain social contacts.
Free time in Vienna
Don't go back home every chance you get, even though being away from friends and family can be hard at first. Look for ways to do leisure activities in the city so that you have a good work-life balance on the one hand and get the opportunity to meet new people on the other.
Suggestions: Sports in the gym or in a club (handball, volleyball, rowing), workshops (painting, pottery, textile design, various sports), making music with others, taking photos, picnicking/reading in the park, voluntary work, cycling, community gardens, activities with friends
With colivi you are guaranteed to find the right flat, and new friends.
Coliving in Vienna offers you high-quality furnished apartments for rent at affordable prices and flexible durations. Become part of the whole and enjoy your dream apartment as well as the many advantages of our large international CoLivi community. Get your CoLivi now and share this unique experience with other like-minded people. In addition to furnished apartments, we also offer the option of Flatshare in Vienna or short term rentals in Vienna.
You are in Vienna and need accommodation besides your studies? ➟ Vienna apartments for rent
Explore Vienna on foot
City walks offer an opportunity to explore secret places, marvel at sights and find green spots in the city. The better you know Vienna, the more at home you will feel there.
Take advantage of cultural attractions
Theatres, cinemas, museums, exhibitions, cabarets or festivals – Vienna has a wide range of cultural activities for you to enjoy!
Invite family and friends to Vienna
I have friends who live in different places/states. As maintaining my social contacts is very important to me, I travel a lot to visit friends and family.
I love to travel, but getting from A to B takes a lot of time. Time that I could use to explore Vienna. I'm much happier when my favourite people decide to visit me. I usually use the opportunity to show them my favourite bars and places.
Create a "Vienna list"
Last year I started to make a list of everything I want to do in Vienna. For example, there are activities (bouldering), relaxation (thermal spa in Oberlaa), pubs (cosy cafés), parks, special cinemas (Burg Kino) and much more!
Be open and connect with others
Making new acquaintances in a city requires the willingness and courage to get into conversation with others. An open attitude and interest in others make it easier to get to know each other.
Everything takes time. Don't despair if it takes you a bit longer to feel comfortable in Vienna. I know from experience that it's not the place itself that gives you a feeling of "home" as well as comfort, safety and love, but the right people. People you can trust and rely on. To find these people, be ready for new relationships and experiences!