Flatmate typology: What kind of flatmate are you?
Do you already live in a shared flat or are you currently looking for a flat share? Thesius introduces you to five typical flatmates and gives you tips for flatmate casting. What kind of flatmate are you?
The nerd explains the legal basis of the sublease contract at the flatmate casting and brings her folding ruler with her to correctly measure the future room. If there is no space for her 2.50 meter desk, she thanks you politely and leaves before she has even exchanged two sentences with either of you.
When moving in, the nerd struggles: She has labeled all the boxes neatly and has already worked out with her app which piece of furniture goes where, but none of her friends came to help. When asked, she explains: "We have an exam in six weeks, so of course it's a bit difficult with the others!"
Living with this kind of flatmate is relatively easy. But don't expect that there will still be time for joint ventures after your demanding studies! However, when the party animal (see below) pre-drinks in the kitchen in a small group – in his world that's ten fellow students – it makes them incandescent.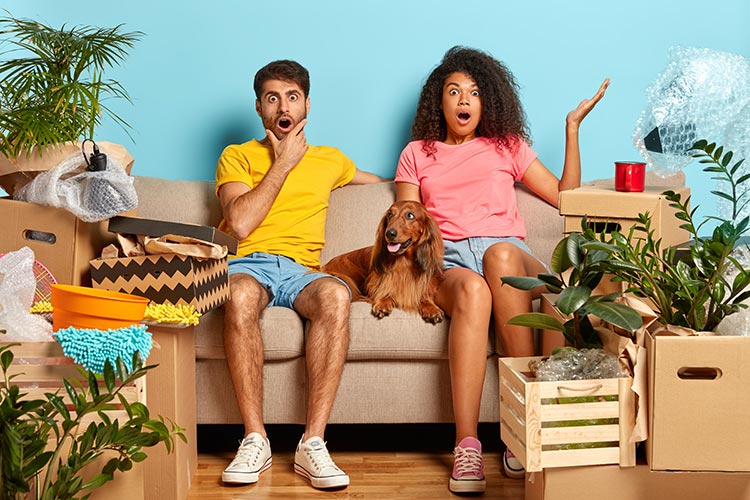 The wealthy flatmate: The MBA student
The MBA student greets everyone with a high-five and then praises the good location and the great price-performance ratio in terms of the number of square meters, taking into account the rent index.
Of course, the MBA student does not move in without help, including a huge moving truck. After all, the 35 square meter room, in which a couple previously lived, has to be filled. The 60-inch television promised during the flatmate casting actually looks even bigger.
Thanks to the MBA student, you now know the Amazon parcel courier personally – including the names of his wife and children. The boxes are stacked in the hallway and the philosopher regularly tries to educate him about environmental issues and consumption. The propagated minimalism à la Marie Kondo leaves this flat share type cold. After all, the economy only thrives when people buy!
The flat philosopher
The philosopher takes a very close look at her future flatmates and explains in the hallway that, according to Mead, identity is formed through language, play and competition. Then she turns up her nose because the flat share looks anything but minimalist. "Does anyone here read Marx?"
When she moves, her poor friend has to haul up 45 kg of boxes of books while she calmly thinks about the best place for her only decoration – a bottle garden. She needs at least her own compartment in the fridge. The vegan spreads without plastic packaging must not be contaminated by the meatloaf!
The philosopher is always available for a good conversation. The nerd benefits from this, of course, because nobody else wants to talk about the torments of the meritocracy and the housework.
The haphazard flatmate: The freshman
The freshman has learned from his previous flatmate casting: This time mom is waiting in the car by front of the door. He enters cautiously and in a low voice and says something like: "Is this really the cool part of town?"
However, moving is not possible without parents. What the freshman lacks in charisma, his parents make up for. His mom brought new dishes for everyone and a delicious cake, and dad just repaired the loose connection on the washing machine, which has been giving you headaches for months.
However, this flat share type still has a lot of problems with living independently. Which buses go to the university? The NC is not the grade point average? How long do you have to cook pasta and at what temperature does the laundry shrink? After a few months, however, he has acclimatized and usually becomes a good flatmate.
The sociable flatmate: The party animal
The party animal comes to the flatmate casting with a six–pack of beer and a lot of agreeableness. He talks euphorically about the upcoming events and parties in the city and even gets the nerd to say "I think I'll come too!".
The move is quick, because the party animal has not only persuaded his soccer team, but also his entire college to help him. Then there is a party and the next morning the apartment looks worse than ever.
Now you are among the most legendary parties and professional beer pong players, but you can definitely rule out your own apartment as a place of learning. Anyway, it's not so clear anymore who actually lives here and pays rent and who doesn't.
CoLivi offers you high-quality furnished apartments for rent in Vienna and Graz at affordable prices and flexible durations. Become part of the whole and enjoy your dream apartment as well as the many advantages of our large international CoLivi community. Get your CoLivi now and share this unique experience on cheap apartments for rent with other like-minded people. In addition to furnished apartments, we also offer the option of Flatshare in Vienna and Graz or short term rentals.
CoLivi also offers Coliving in Vienna where you can find high-quality furnished apartments for rent at affordable prices and flexible durations. Take a look at our Vienna apartments for rent and find the perfect place for young workers and students.
You need an temporary place in Austria? We have the perfect offer for you! Our short term rentals in Vienna are a great choice for visitors and professionals who just want to stay for a while. You can just unpack your luggage and enjoy your new home!
Tips for flatmate casting
In order to be invited to the flatmate casting, you must first send a message. Most students look for new flatmates via WG-gesucht.de. Read the text of the ad carefully, address it in your message and also tell something about yourself. Keep it short and confirm that the move-in date suits you.
When casting, the following applies above all: Be yourself! Of course you should show yourself from your best side, but try to remain authentic. After all, you want to get along well with your future flatmates and find out if the chemistry is right. If it fits, then it fits!
Of course there are also absolute no-gos! Never bring gifts to the casting and leave your parents at home. Wait for your potential flatmates to show you around and don't explore on your own. Depending on how competitive the housing market in your city is, you should be careful with criticism of the flat.
Nevertheless, share your idea of what good co-living means. Would you prefer a flat share or would you like to do a lot together? Share it!
Tips for living together
Communication, mutual understanding and a good cleaning plan are half the battle for peaceful coexistence. Be open and honest and address problems before you get so angry that friendly discussion is no longer possible. Stick to the cleaning plan and respect the rooms of others as their retreat.
It is often a good idea to have a common household fund for joint purchases and everyday items such as washing-up liquid and toilet paper. Let your flatmates know if you want to invite multiple friends or throw a party. After all, you don't want the place to be full if you have to write an exam the next day.
What kind of flatmate are you?
Few of us fall entirely into one category. Did you find yourself in one of the flatmate types? Although living together in a flat share can often be difficult, you always have someone to talk to and, ideally, find friends for life!