Exam period: From minimum effort to maximum success
The holiday feeling is slowly disappearing, you are still on some island in your mind and suddenly it arrives: The dreaded exam time. A pure stress marathon for most. So that you can relax a little more in the approach to this agonizing time, we have a few well-intentioned pieces of advice – from learning basics to an overview of different types of learners.
The exam dates are often set at the beginning of the semester. For you, however, they are as far away as the Rolling Stones are from their 18th birthday. The days and months go by and suddenly everyone gets nervous. When was the exam again? What? In a week already?
So that the mass panic doesn't get too big, you can stick to our basics for now. But between all the books, don't forget that as a student you still have a life outside of university.
Learning basics: Sucked out, but worth gold!
Start early enough and get an overview of the content
Sounds really unexciting, but the early bird catches the worm. Preparation takes a lot of the burden off your shoulders right at the beginning of the exam period.
Scheduling
You should allocate a certain amount of study to yourself per day – not so much that you are at risk of burnout, but also not so little that you go back to hating everything after a quarter of an hour.
Take breaks
Some people go to smoke, others dance around to their favourite song through the student flat share and a few rare people tidy up their room or clean the whole flat. Everyone has their own way of relaxing during exam time – use it!
Support your body with brain food
RedBull and coffee can harm your body if consumed in excess. And they are only efficient to a limited extent (performance curve and the crash after the sugar high and so on). Even if we don't want to act as the moral apostles here (we also have enough energy boosters), we would still like to draw your attention to it. After all, you only have one body.
Reward yourself
Think of a treat that you can allow yourself to enjoy after studying. It doesn't matter whether it's an after-work beer or a kitschy love story with ice cream and popcorn.
Pass the exam
Yes, yes, that requires a certain amount of work done so far, but it is important to see success following your efforts. Getting a good grade is positive reinforcement for you and you strive for more.
What kind of learner are you?
If you talk to your colleagues during the exam period, you will have noticed something: Everyone learns differently. Even if you fully mimic the way a student learns, the outcome is not necessarily the same. Figure out how best to study and you'll save yourself a ton of frustrating night shifts.
Auditory learner
Do you find yourself talking to yourself while studying? No reason to worry. Chances are you're just an auditory learner. Listening to what you are learning is important to you. So it is best to repeat it out loud, explain it to your roommates (you can return the favour afterwards) or sing what you have learned to yourself.
Visual learner
Observe and learn – that is your motto. Your eyes are your most important tool in memorizing. You can grasp and understand things faster if they are presented in the form of graphics or images. Tip: Paint mind maps and draw sketches.
Communicative learner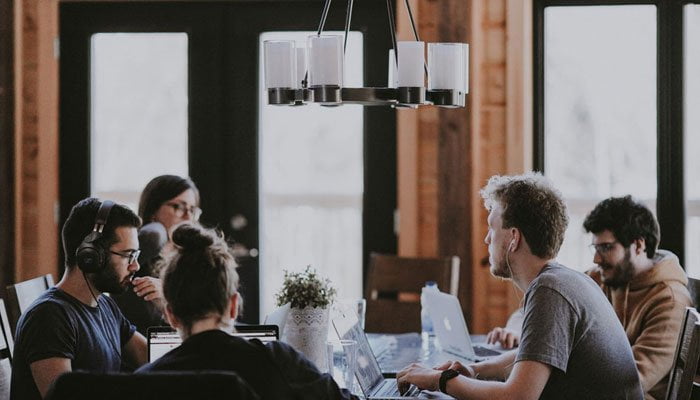 Sounds like a dream – learn by talking. But not everyone can do that. If you are a communicative learner, you like to discuss in study groups and let others explain your content to you. You need the exchange and the entertainment to anchor what you have learned.
Motor learner
Your motto is: Learning by doing. Dry memorizing is absolutely not for you and does not bring the desired success in the exam period. Unfortunately, since you cannot try everything out by means of self-experiments, simple movement will also help you when learning. Walk around the room or consolidate what you have learned through gestures and facial expressions.
If the exam period is a dead loss: Cheater contingency plan
Despite the calendar, post-its and all the tricks that you followed, it happened: you completely forgot about the exam and you are about to break down. We don't want to let you down in this situation either, so we rummaged through our bag of tricks. However, we would like to ask you to use our highly criminal tips sparingly.
Hide it!
Especially useful at exam time in the hot months. You just put on a short skirt or slightly shorter shorts and glue the cheat on your thigh. During the exam, just push it up a bit (if you don't have a problem with the person sitting next to you seeing a little more skin on you) and look.
Oh, it's a cheat
In winter or in allergy season you can hear it everywhere: A sneeze there, a runny nose there. So make the most of it and use a cold as an excuse to leave a tissue box on your table. It is best to take one with transparent packaging, then you can simply slide your "information sheet" underneath.
Apple Watch
If you have it, use it. If you own an Apple Watch, we congratulate you on being the most modern cheat. Notes can be saved on the watch and viewed with a swipe of the finger, but they can also be made to disappear again.
Time to #chill
Finally, the time has come and your exams are over. It's time to relax and go on vacation! If you're looking for cheap apartments for rent with your own private bedroom we've got you covered!
Colivi offers also furnished apartments for rent in Vienna and Graz. You don't have to worry about finding furniture, equipping the kitchen, or finding a cheap provider for WiFi. We take care of everything for you.
You find more information about our apartments here:
Vienna apartments for rent
Graz apartments for rent
Get in touch with us, if you have more questions. We are looking forward to hear from you!